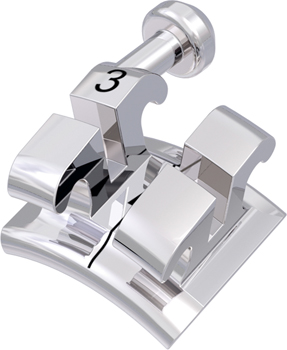 Assortimento da 10 casi brackets equilibrium® 2, McLaughlin-Bennett-Trevisi** 22
---
---
Assortimento da 10 casi brackets equilibrium® 2, McLaughlin-Bennett-Trevisi** 22
Specifiche:
Casi
10
Quantità
200
Tecnica multibande/multibrackets
Da incollare
Sistema
McLaughlin-Bennett-Trevisi**
Slot
22
Gancio
Distale
Marcatura sulla base
FDI
Aiuto di montaggio
NO
Nota:
Avvertenza:
per ulteriori brackets con valori McLaughlin-Bennett-Trevisi** e brackets per canini senza gancio vedi confezioni singole.
** The Dentaurum version of this prescription is not claimed to be a duplication of any other, nor does Dentaurum imply that it is endorsed in any way by Drs. McLaughlin, Bennett and Trevisi.
Assortimento brackets:
Mascellare
SUP
SUP
SUP
SUP
SUP
SUP
SUP
SUP
SUP
SUP
Torque
- 7°
- 7°
0°
+ 10°
+ 17°
+ 17°
+ 10°
0°
- 7°
- 7°
Angolazione
0°
0°
+ 8°
+ 8°
+ 4°
+ 4°
+ 8°
+ 8°
0°
0°
In/Out
1,2 mm
0,7 mm
3.1 mm
1,3 mm
0,7 mm
0,7 mm
1,3 mm
0,7 mm
0,7 mm
1,2 mm
Larghezza
3.1 mm
3.1 mm
0,7 mm
3.0 mm
3.4 mm
3.4 mm
3.0 mm
3.1 mm
3.1 mm
3.1 mm
REF
722-302-15
722-302-14
722-342-13
722-302-12
722-302-11
722-302-21
722-302-22
722-342-23
722-302-24
722-302-25
Mascellare
INF
INF
INF
INF
INF
INF
INF
INF
INF
INF
Torque
- 17°
- 12°
0°
- 6°
- 6°
- 6°
- 6°
0°
- 12°
- 17°
Angolazione
+ 2°
+ 2°
+ 3°
0°
0°
0°
0°
+ 3°
+ 2°
+ 2°
In/Out
0,7 mm
0,7 mm
0,7 mm
1,3 mm
1,3 mm
1,3 mm
1,3 mm
0,7 mm
0,7 mm
0,7 mm
Larghezza
3.1 mm
3.1 mm
3.1 mm
2.4 mm
2.4 mm
2.4 mm
2.4 mm
3.1 mm
3.1 mm
3.1 mm
REF
722-302-45
722-302-44
722-342-43
722-302-42
722-302-41
722-302-31
722-302-32
722-342-33
722-302-34
722-302-35